Dawgs 2023 Roster

| Pitchers | Home Town | College | B/T | Height | Weight |
| --- | --- | --- | --- | --- | --- |
| Brady Baltus | Beaverton, OR | Linn-Benton Community College | R/R | 6'1 | 185 |
| Bobby Vath | United States | Louisiana State University Shreveport | R/R | 6'0 | 175 |
| Brady Wilson | Calgary, AB | University of Victoria | L/L | 5'10 | 160 |
| Brock Townsend | United States | Bellevue University | R/R | 6'0 | 190 |
| Brody Forno | Okotoks, AB | Williston State College | R/R | 6'1 | 180 |
| Cade Hermann | Omaha, NE | Western Illinois University | R/R | 6'0 | 200 |
| Daniel Hutchinson | Chandler, AZ | Chandler-Gilbert Community College | R/R | 6'3 | 185 |
| Connor Robbins | Canada | Okanagan College | R/R | 5'10 | 180 |
| Dustin Schorie | United States | Bellevue University | R/R | 6'5 | 220 |
| Gavin Wuschke | Canada | Okanagan College | R/R | 6'1 | 200 |
| Garrett Maloney | United States | Campbellsville University | R/R | 6'3 | 200 |
| Jace Behnke | United States | Chandler-Gilbert Community College | R/R | 6'1 | 195 |
| Jackson Fraser | Swift Current, SK | Northern Kentucky University | R/R | 6'6 | 210 |
| Graham Brunner | Sherwood Park, AB | Emporia State University | L/L | 6'2 | 200 |
| Joe Ranford | Australia | Campbellsville University | L/L | 6'5 | 240 |
| Matt Wilkinson | Okotoks, AB | Central Arizona College | R/L | 6'0 | 265 |
| Logan Rumberg | Okotoks, AB | George Mason University | R/R | 6'0 | 175 |
| Noah Geekie | Strathclair, MB | Emporia State University | L/R | 6'3 | 183 |
| Quinn Tocheniuk | Okotoks, AB | Rogers State University | R/R | 6'2 | 190 |
| Ryan McFarland | Calgary, AB | Campbellsville University | R/R | 6'1 | 190 |
| Seth Thompson | Calgary, AB | Chandler-Gilbert Community College | R/R | 6'4 | 220 |
| Sam Roberts | St. Jordan, Utah | Chandler-Gilbert Community College | R/R | 6'0 | 170 |
| Tim O'Connor | Worcester, Massachussetts | Northwestern State University | L/L | 6'1 | 210 |
| Vic Domingo | Richmond, BC | University of British Columbia | R/R | 6'0 | 190 |
| Catchers | Home Town | College | B/T | Height | Weight |
| --- | --- | --- | --- | --- | --- |
| Caleb Lumbard | Regina, SK | Okanagan College | L/R | 6'0 | 205 |
| Conner Stewart | United States | San Diego City College | R/R | 6'2 | 220 |
| Logan Grant | Canada | Bellevue University | L/R | 6'2 | 200 |
| Infield | Home Town | College | B/T | Height | Weight |
| --- | --- | --- | --- | --- | --- |
| Aidan Rose | Calgary, AB | University of British Columbia | R/R | 6'0 | 180 |
| Brendan Luther | Mississauga, ON | Bellevue University | L/R | 6'1 | 190 |
| Connor Crowson | Okotoks, AB | Bossier Parish Community College | R/R | 6'0 | 190 |
| Cole Cramer | United States | Linn-Benton Community College | R/R | 6'1 | 190 |
| Dryden Howse | Canada | Barton Community College | L/R | 6'0 | 200 |
| Eric Machej | St.Albert, AB | Illinois State University Commit | R/R | 6'2 | 170 |
| Nash Crowell | Canada | Reinhardt University | R/R | 6'0 | 230 |
| Ricardo Sanchez | Mexico City, MX | Barton Community College | R/R | 5'9 | 170 |
| Thomas Cifalino | Italy | Rimini's University | R/R | 6'0 | 190 |
| Trent Lenihan | Canada | University of British Columbia | R/R | 6'4 | 225 |
| Tommy Giocomini | Italy | Bologna's University | R/R | 6'0 | 190 |
| Outfield | Home Town | College | B/T | Height | Weight |
| --- | --- | --- | --- | --- | --- |
| Alejandro Cazorla | Okotoks, AB | University of Dayton | R/R | 6'1 | 196 |
| Canon Reeder | United States | Oregon State University | R/R | 6'0 | 175 |
| Cesar Valero | Calgary, AB | Sacramento State University | R/R | 6'2 | 220 |
| Elijah Hammill | Canada | University of Utah | S/R | 6'0 | 200 |
| Nolan King | Canada | Okanagan College | L/R | 6'2 | 200 |
| Titus Dumitru | United States | Linn Benton Community College | R/R | 6'2 | 200 |
Dawgs Coaching Staff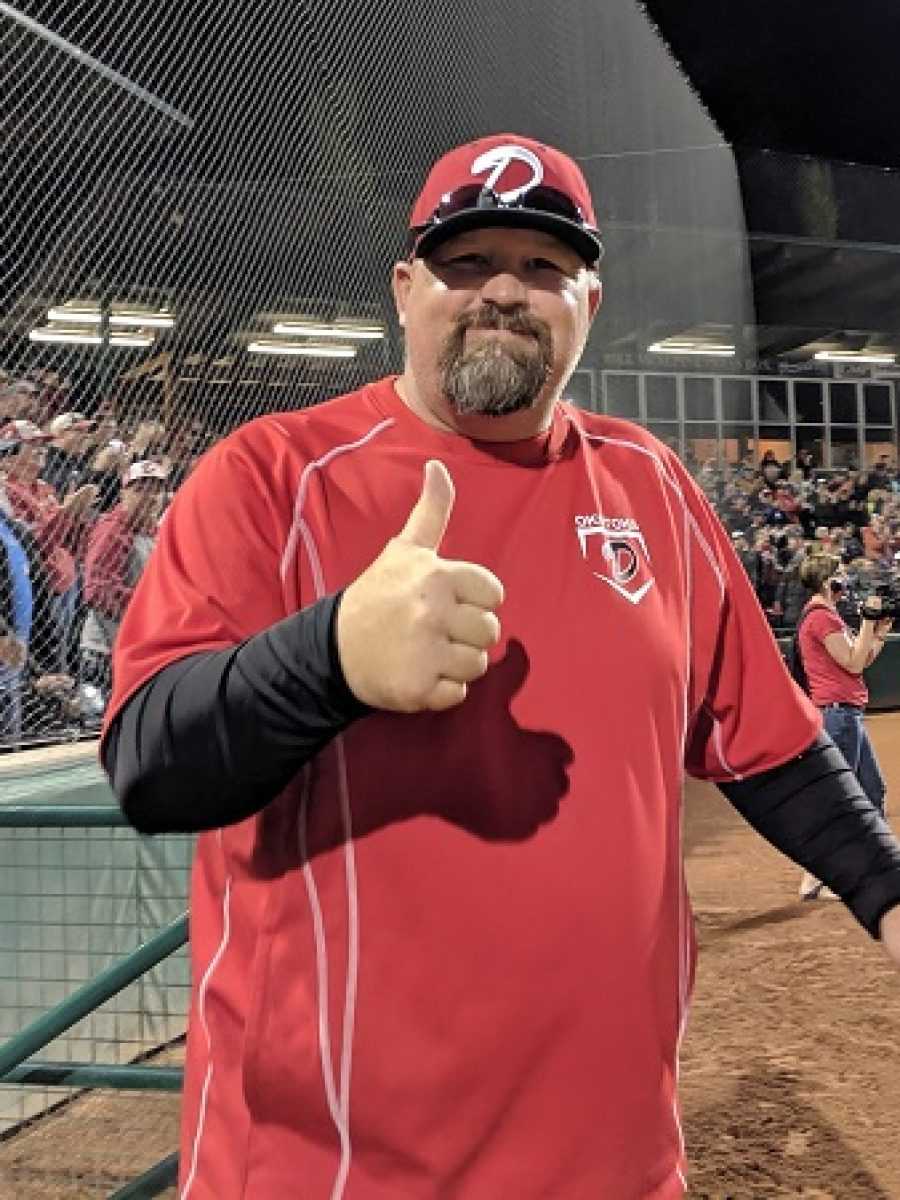 Mitch Schmidt - Manager
Coach Schmidt will be taking a medical leave of absence in 2023 but will be with the Dawgs in spirit hoping to inspire the club to back to back WCBL Championships. Mitch is the Assistant Coach at Bellevue University, where he has been for the past 15 years. in 2019, he earned the 'Baseball America Assistant Coach of the Year' award. Earlier in his career, Mitch coached at a number of other colleges including: Montana State University-Billings, Minot State University, and Midland University. Throughout Schmidt's coaching career, he has had the honor to coach 115 players that have signed professional contracts. Numerous individual Athletic and Academic awards from the National and Conference levels have been awarded to players he has had the honor to coach also: (19) NAIA All-American Awards, (4) NAIA National Gold Glove Awards, (21) Daktronics-NAIA Scholar-Athlete Awards, (142) All-Conference Awards, (38) Conference Gold Glove Awards, (83) Conference Scholar Athlete Awards and (3) Conference Baseball Scholar-Athletes of the Year Awards.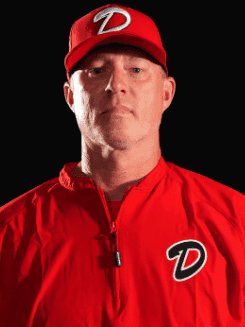 Lou Pote - Interim Manager
Coach Pote takes over the Skipper's role for the Dawgs during the 2023 season. Lou brings a storied baseball background to the Dawgs dugout. As a player, he earned a World Series ring with the Anaheim Angels in 2002. He pitched for both the Angels and the Cleveland Indians over a 5 year Major League career. Overall, Lou spent 21 years playing professional baseball. He is the current Director of Player Development for the Dawgs Baseball Academy and has coached at various levels for over 16 years. Coach Pote hopes to bring Okotoks and the Dawgs another WCBL Championship in 2023.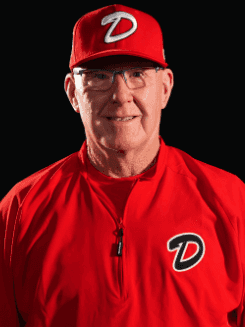 David Robb - Hitting & Bench Coach
Coach Dave Robb (DR) is a Dawg through and through, being part of the program for 19 years. DR brings a lifetime of coaching experience to the Dawgs. Coach Robb played in the College World Series for Augie Garrido at Cal State Fullerton. After his college career, Robb played professionally overseas in Italy. After his playing career, he began coaching around the world Including coaching assignments in Italy, New Zealand, Germany, Spain, and Canada. Coach Robb has enjoyed stints with both Canada's & Italy's National Team programs, the Oakland Athletics and has been on the Dawgs coaching staff for 6 WCBL Championships while coaching the past 9 seasons at Mesa Community College.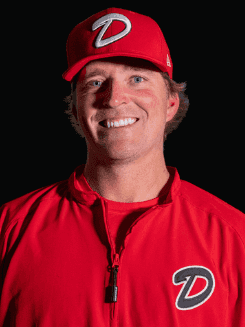 Andy Peterson - Infield Coach
Coach Peterson is back for his 5th summer with the Dawgs. Andy is the Head Coach at Linn-Benton Community College in Oregon. Prior to getting the head coach position, he was the Undergraduate Assistant Coach at Oregon State University, where he also played. Peterson was a two-year letter winner for the Beavers, including trips to Omaha for the NCAA, Division 1 World Series, where he was a standout. For his career with Oregon State, Andy started 119 games, batting .289 with 13 doubles and 42 runs batted in. Following his collegiate career, he was selected by the Seattle Mariners in the 2014 MLB First-Year Player Draft. As a coach with the Dawgs, Coach Peterson has been part of two WCBL Championships. With Linn-Benton, he lead the Roadrunners to the 2022 Northwest Athletic Conference Baseball Championship and earned Coach of the Year honors.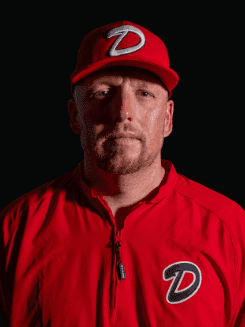 Joe Sergent - Pitching Coach
Coach Sergent is back in 2022 for his 4th season with the Dawgs. Joe was a left-handed pitcher born and raised in Manteca, California. After playing JC ball at San Joaquin Delta College, Joe was recruited by D1 Lamar University in Beaumont, Texas. He was drafted in 1999 by the Florida Marlins and played five seasons for them, playing as high as AA. From '04-'07 he pitched for the Fargo-Moorhead Redhawks of the Northern League (now American Association) posting a 21-5 regular season record before joining the Calgary Vipers in '08. From '08-'10 the GBL all-star was the ace of the staff that won the 2009 GBL title and was 6-0 in playoffs during his time in the GBL. In his 12 year career, Joe boasted a regular season record of 64-33 with a 3.95 ERA in over 800 professional innings.
Savannah Blakely - Athletic Therapist
Savannah is an experienced Athletic Therapist with a demonstrated history of working in the sports industry. Skilled in biomechanics, prevention, musculoskeletal Injuries, manual therapy, and exercise prescription, Savannah has provided outstanding care to our Dawgs' athletes since 2012 and plays a vital role in the team's success on and off the field.
Savannah earned her certificate with a focus in Athletic Training from Mount Royal University and is the proud owner of ProSport Athletic Therapy.
Contact
Okotoks Dawgs Baseball Club
PO Box 298
Okotoks, AB T1S 1A5