Seaman Stadium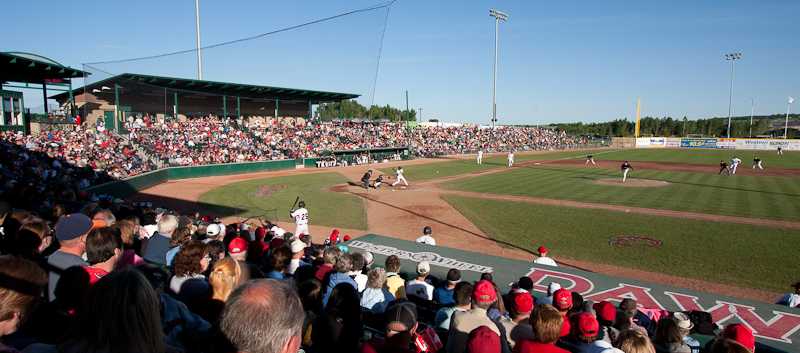 Seaman Stadium is a full service, state of the art, minor league level, baseball facility featuring comfortable stadium seating, an extensive family berm area for additional viewing, a wraparound concourse, spectacular party decks and hospitality areas, a 45' X 30' scoreboard with an interactive, color video board and extensive press box, a Dawgs General Store for the latest merchandise, multiple washrooms, first rate concession stations, media rooms, administrative offices and an outdoor training center comprised of 4 bullpen mounds and 3 batting cages.
Seaman Stadium is one of the most fan and player friendly facilities on either side of the border. The Stadium is first class in every respect. There literally is not a bad seat in the house and from the moment fans enter the facility under an expansive sign that reads Welcome to Seaman Stadium: Home of the Dawgs, the field of play with magnificent green natural grass is in constant view.
In June 2009, immediately adjacent to the Stadium, the Dawgs added the Duvernay Fieldhouse, a full sized, indoor training centre featuring a regulation sized, field turf infield along with multiple batting cages, permanent and retractable bullpens, specially designed weight and cardio rooms, team clubhouses with multiple lockers, showers and washroom facilities, coaches and administrative offices, a boardroom, a video analysis office and a hospitality room.
Fast Facts
Capacity: 5200 (including stadium and berm seating)
Surface: Natural grass
Dimensions: 330 left; 400 center; 325 right
Architects: Hans Hoffman Architects, Park City, Utah
General Contractor: Bradon Construction Ltd., Calgary, AB
Baseball Field Consultant: Built 4 Baseball Inc. (Blair Kubicek)
Project Manager: John Ircandia
Principal donors: Donald R. Seaman; Darryl K. Seaman
Built: June 6, 2007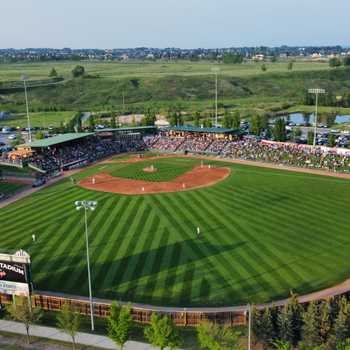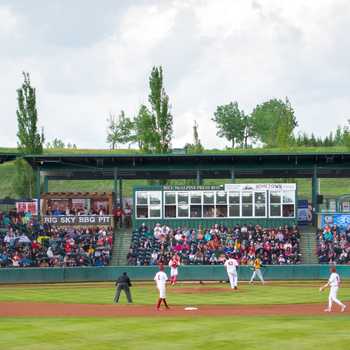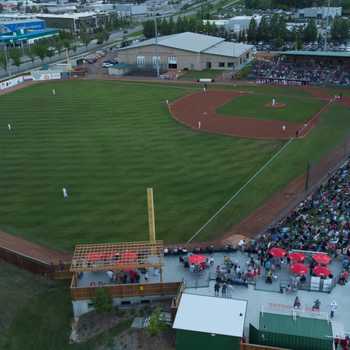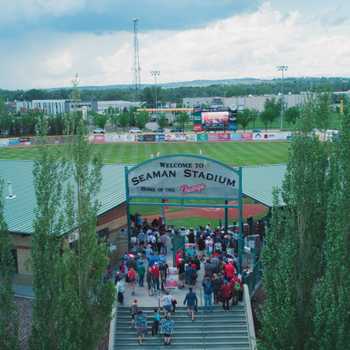 History
The first ever opening night for Dawgs Baseball at Seaman Stadium took place on June 6, 2007 before an at that time, capacity crowd of 2650 fans in Okotoks, Alberta with a double rainbow to the southeast and magnificent view of the Rocky Mountains to the west. It was a perfect beginning for a stadium that is state of the art and among the finest at any level in the country. Home to the Okotoks Dawgs Summer Collegiate Club and the Dawgs Youth Academy, Seaman Stadium is the flagship facility in the Western Canadian Baseball League. Since that first opening night in 2007, fans of the Dawgs have continued to flock to the stadium, as the club averaged over 4100 fans per game in 2017 with a staggering, "hanging from the rafters", crowd of 5400 on Canada Day. In fact, every Dawgs home game during the 2018 season was an official sellout. Those crowds resulted in U.S. online resource, Ballpark Biz, ranking the Dawgs the #1 draw, professional or otherwise, in the province of Alberta, the #1 summer collegiate draw in Canada and among the top 3 summer collegiate draws in all of North America.
Seaman Stadium was built at a cost of $20.5 million and bears the name of its principal donors, Alberta energy entrepreneurs and philanthropists, Donald R. Seaman and the late Daryl K. (Doc) Seaman, an original owner of the Calgary Flames NHL Hockey Club. The Stadium is unique in that it is dedicated solely to amateur baseball, namely the summer collegiate Dawgs and the Dawgs Youth Academy.
And it is not only the phenomenal fans who have enjoyed the friendly confines of Seaman Stadium…..Since that June 6, 2007 Opening Night, Dawgs players have shown their appreciation for the facility by capturing "back to back to back" WCBL championships in 2007, 2008 and 2009 with Western Division pennants in 2010, 2011, 2013, 2015 and through 2017.
**Please note that while we love our "Dawgs" we do not allow the furry, four-legged kind inside Seaman Stadium**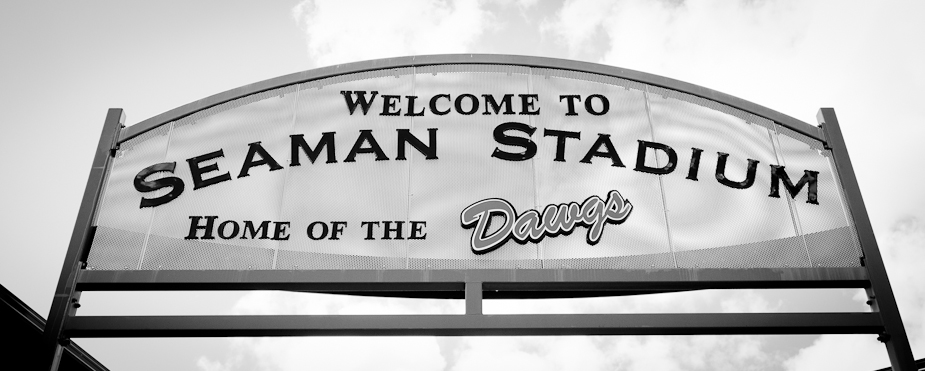 Contact
Okotoks Dawgs Baseball Club
PO Box 298
Okotoks, AB T1S 1A5