Tourmaline Field

Facilities
Tourmaline Field was designed to maximize development opportunities for the Dawgs Youth Academy. As such, a field turf infield was included as part of the design in order to enable Dawgs players to begin outdoor training as early in the year as possible. Tourmaline includes many of the first class features of Seaman Stadium such as wood outfield fencing with a shale warning track, full sized, cement dugouts and an outdoor training center complete with batting cages and pitching mounds. In addition to comfortable stadium seating, fans enjoy a concourse viewing and seating area overlooking the field of play surrounding the Peters & Co. Press Box. Like Seaman Stadium, Tourmaline features Musco field lights for night play and an interactive full sized Scoreboard and Public Address system. In partnership with the Town of Okotoks, the Dawgs added an extensive Dawgs Academy Clubhouse, an Umpire's change room, concession facilities and full service washrooms, to make Tourmaline Field one of the premier amateur baseball stadiums in the country.
Fast Facts
Capacity: 2500 (including stadium, concourse & berm seating)
Surface: Field Turf infield; natural grass outfield
Dimensions: 320 left; 385 center; 310 right
Architects: Hans Hoffman Architects, Park City, Utah
General Contractor: Bradon Construction Ltd., Calgary, AB
Baseball Field Consultant: Built 4 Baseball Inc. (Blair Kubicek)
Project Manager: John Ircandia
Principal donors: Michael Rose
Built: April 15, 2010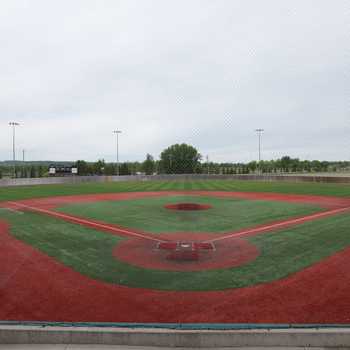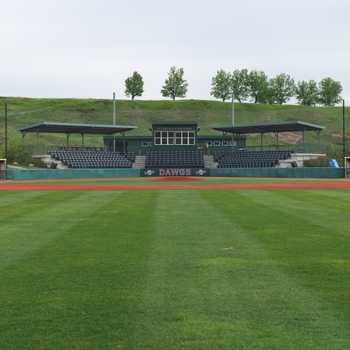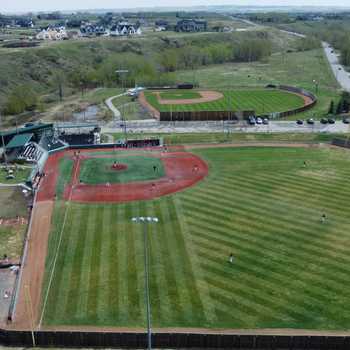 History
With Seaman Stadium and the Duvernay Fieldhouse, the Dawgs are fortunate to have the premier baseball development facility in the country. However, with an expanding youth academy, in the spring of 2012, the Dawgs added Tourmaline Field to these already extraordinary facilities.
The Dawgs Baseball Program now consists of a summer collegiate club, three high performance 18U aged clubs, three high performance 15U aged clubs and one high performance 13U club. To keep pace with that growing organization, the Seaman Stadium Complex now includes 2 full sized baseball stadiums, namely Seaman Stadium and Tourmaline Field, 2 bantam sized facilities, Conrad and Riverside Fields and the Duvernay Fieldhouse and Indoor Training Center. All of these facilities are flanked by outdoor batting cages and pitching mounds to maximize player development opportunities.
Tourmaline Field was made possible by a funding partnership among principal donor Michael Rose, CEO of Tourmaline Oil Corp., the Town of Okotoks and Dawgs management. In addition, the Dawgs were fortunate to have the support of Calgary investment firm, Peters & Co. Ltd., who sponsored the interactive scoreboard and press box at Tourmaline Field.
Tourmaline Field is a full sized, collegiate level, stadium suitable for international and provincial tournaments with dimensions of 320 feet down the left field line, 310 in right and 385 feet to center field. Tourmaline offers covered concourse and stadium seating for over 500 with additional berm seating for another 2000 fans.
As noted above, Tourmaline Field features an all "Field Turf" infield with a natural grass outfield. The "Field Turf" infield enables Dawgs Academy players to play outdoors as soon as the snow melts. This significantly increases the "usability" of Tourmaline Field and offers a significant advantage for Dawgs Academy players.
Contact
Okotoks Dawgs Baseball Club
PO Box 298
Okotoks, AB T1S 1A5